Microsoft has quietly reduced the amount of Microsoft Rewards points users can earn, enraging users who have used the points to offset some of Microsoft's more expensive services, like Game Pass.
Microsoft has removed the daily 15-point bonus for using Microsoft Edge, and has reduced the rewards for daily activities to just one or two points (down from five to ten points). On the Xbox, users report that the company is making additional changes to reduce the point opportunities as well, possibly killing the Rewards app altogether.
Microsoft Rewards debuted in 2016 as the evolution of Bing Rewards. Think of it as Microsoft's frequent-flyer system: The more you use Microsoft's services, the more Microsoft will pay you in points, which can be exchanged for real money in the form of Amazon gift cards, food delivery services, and Microsoft Game Pass for PC and Game Pass Ultimate.
What's so great about Microsoft Rewards is the fact that you really didn't have to do anything to earn free stuff: Provided you don't mind using Bing over Google Search, or Microsoft Edge over Chrome, Microsoft will automatically "pay" you for using both services. Historically, you've also received points for using the Xbox, as well as PC Game Pass and the mobile Microsoft apps. Microsoft has also "gamified" rewards for completing specific tasks or "quests," but those have been entirely optional; you could accumulate a few bucks in your Amazon account just by doing everything you do without thinking about it.
Put another way, you used to be able to earn 270 points per day just for searching with Bing, browsing on Edge, and using Microsoft's mobile apps. A $5 Amazon gift card "costs" 5,250 points, which works out to about 19 days of normal use. But Microsoft also awarded bonus points for "daily streaks" and additional tasks, so the points could add up the more wholly invested you were in Microsoft's ecosystem. Microsoft provided a Rewards dashboard on PC to monitor and complete additional tasks, as well as an Edge plugin to monitor your daily activity.
Mark Hachman / IDG
Microsoft Rewards changes are ticking off users
That's changed. Now, the additional 15 points for using Edge is gone. Completing a puzzle or a quiz is just a single point, which many people on the Microsoft Rewards subreddit find insulting. Windows Central has reported that overseas users are receiving warnings that the Xbox Rewards app is going away, though that change hasn't hit English-language users yet. Microsoft is still paying out five points per Bing search, but with an annoying caveat: Rewards begin on the third search, not just the first. Searches also have "cooldowns," users say: Search too frequently, users say, and you won't get credit. In March, Microsoft previously pulled the option to score a daily 50 points on the Xbox for a daily achievement, known as "Achieve More, Earn More," or AMEM.
"From having no more monthly bonus punchcards to reducing points of AMEM to taking away Edge points to adding search cooldowns to reducing points of extra activities to even mysteriously banning accounts, I think Microsoft Rewards has become more of an inconvenience and I hope I'm wrong but Microsoft's changes to the program definitely means that they might sadly soon retire it," a Reddit post bemoaning "Nerfmas" stated.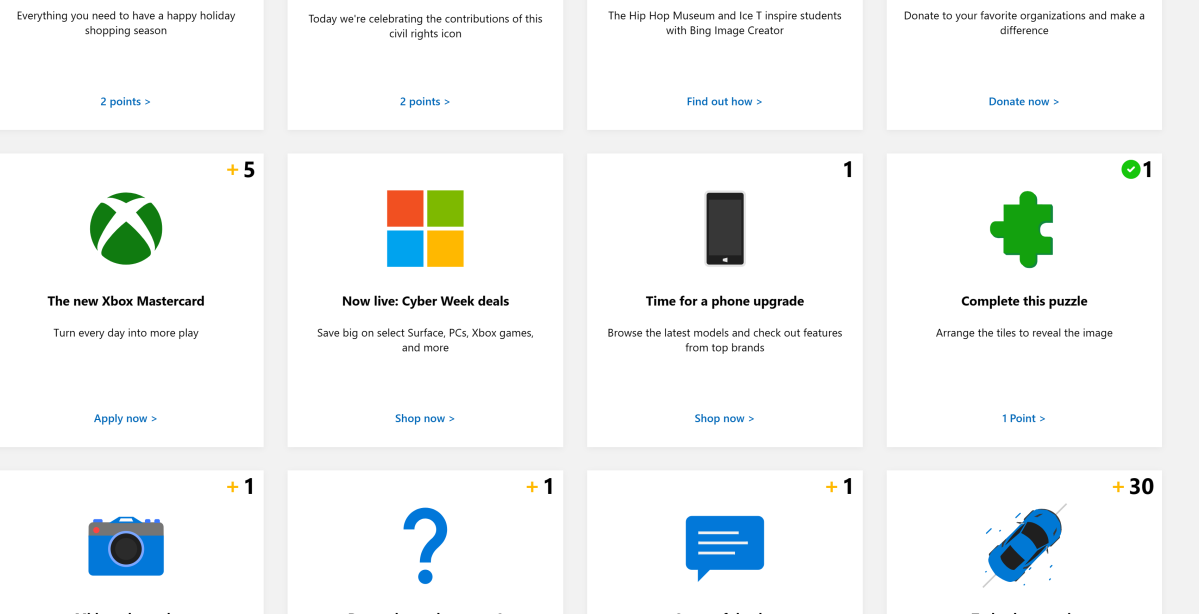 Mark Hachman / IDG
Most of the Microsoft Rewards subreddit was saying much the same thing. "I've switched to DuckDuckGo and Mozilla," another wrote. "I cannot see MS reverting back on this one, and it just is not worth my time."
Microsoft representatives called the changes a "tuning" of the program. "Over the last few years, the Microsoft Rewards program has regularly evolved to reflect our growth and expansion," representatives told WindowsLatest. "We evaluate every change for consistency and fairness, tuning the methods and frequency through which our members can earn points."
You can't help but think that Microsoft saw itself paying out too much in terms of rewards, however, while feeling pressure to take in more revenue through ongoing Game Pass subscriptions — whose deals aren't as good as they once were, either. It looks grim for the future of Microsoft Rewards.